Teekkari Traditions
Technology students in Finland have a lot of traditions and ways to celebrate. Here's a few of our favourites!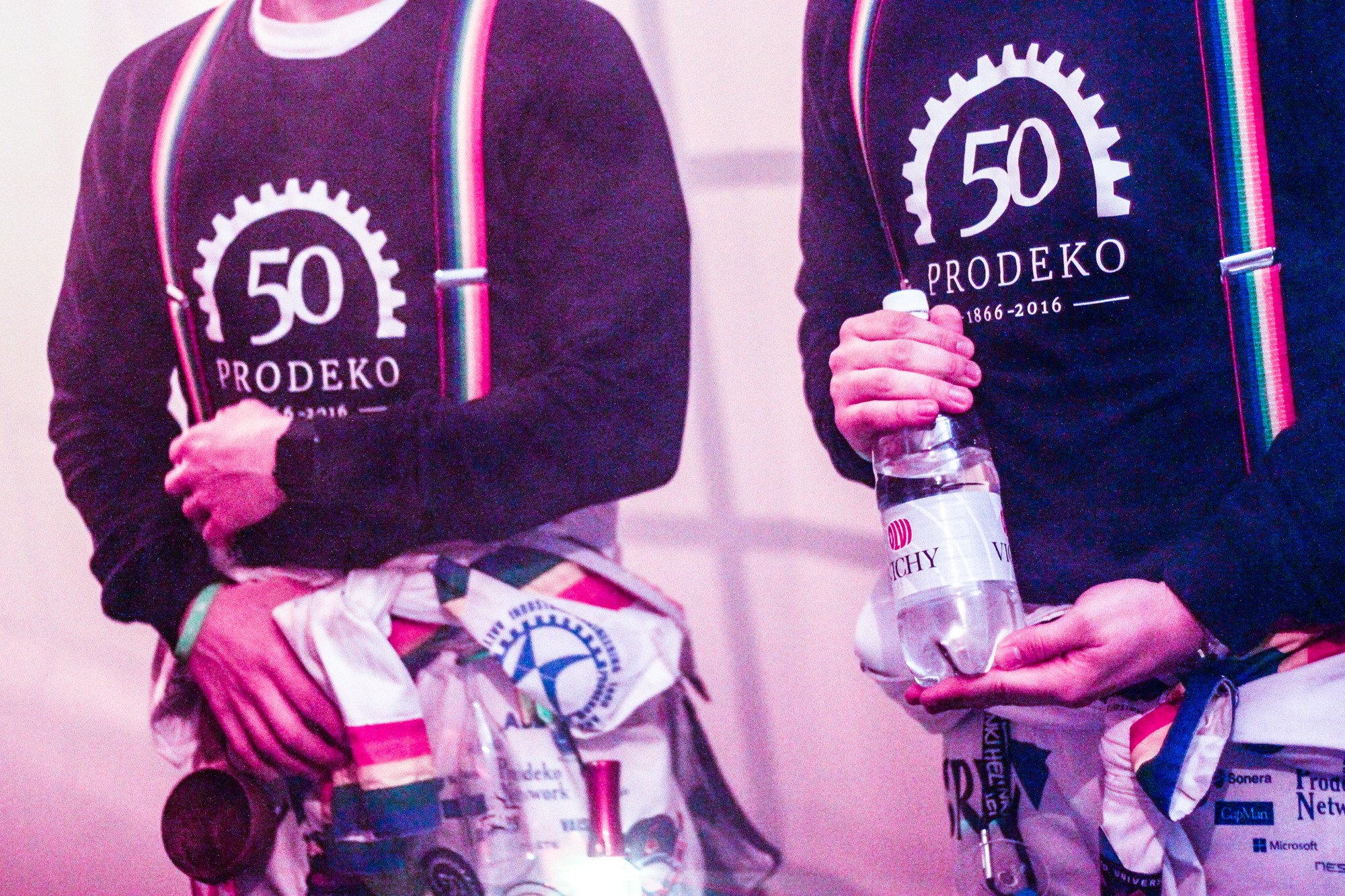 Sitsit
Sitsit are academic table parties and very common amongst students of technology. The main idea of sitsit is to sing numerous "sitsi songs", eating and drinking in between each song. A common saying is "a student of technology sings rather than well", so don't be shy to sing along, even though only a few songs are in English. "Sitsiläsy", a small booklet with the lyrics of various sitsi songs, will be there for every participant so there is no excuse for not knowing the lyrics. A three course meal is usually served but it is not the main point at sitsit parties.
Sitsit parties have different themes and dresscodes ranging from fine sitsit where guests dress in dark suits and cocktail dresses to casual sitsit with attendees wearing e.g. superhero costumes. Sitsit often include performances or activities which may or may not involve participation by one or several guests. A common activity is a drinking contest of sorts, whereas more formal sitsit parties tend to rather have a musical performance as programme.
At sitsit parties members of the opposite sex are seated next to, as well as across from each guest. In practice, however, this is a nearly unachievable state due to the gender distribution of students of technology. The person sitting across from you is your avec for the evening.
Sitsit have toast masters called "lukkari" whose job is to lead the sitsit and provide enough entertainment, as well as to initiate singing. The toast masters should be respected (up to a point) – when the gong rings, all speech, eating and drinking should halt until the lukkari has spoken and the next song has been sung. It is also considered unpolite to interrupt guests other than toast masters giving a speech.
After each song comes the toasting: men toast first to the right, then to the left and finally across. Women toast first to the left, then to the right and then across. When toasting you should shout "kippis!" or "skål!". A drink should not be drunk before a song has been sung about the beverage in question. For instance, there are different songs for beer, wine, jallu, kossu and water.
Overalls
Overalls are possibly the most visible student tradition in Finland. All technical students have overalls of varying colours and they have been in use in Finland since the 1980's. Overalls are usually worn in student parties, pub crawls and other student activities. More than 10 different overalls exist in Otaniemi alone. In general, the colour of the overalls represent a person's study area or guild, although other overalls do exist. Prodeko has white overalls with rainbow stripes on them. Rainbow suspenders and a rainbow belt should also be used in conjunction with Prodeko overalls. The rainbow stripes symbolize our program's wide range of studies. Students sew cloth badges on their overalls to decorate them. Every guild and most other student organizations have a badge of their own and badges can be bought from student parties, pub crawls and other events. Therefore, an overall might be the best souvenir reminding you of your semester abroad as an international student. Prodeko overalls, rainbow belts and suspenders can be bought at Prodeko's guildroom.
Student caps
The Teekkari cap is the oldest and most honorable symbol of technical students. It is commonly known throughout Finland, for it has been in use in Finland since 1893. During one's freshman year, freshman points need to be collected in order to earn the right to obtain the technical student cap on Wappu eve, the 1st of May. The goal of freshman points is to introduce freshmen to technical student traditions and habits, as well as to prompt freshmen to engage in social activities and practice skills vital in their future working lives.
The technical student cap has a white hexagon shaped top and a round black edge. The front of the cap is garnished by the golden cockade of the former Technical Students' Union (TKY). The most distinctive piece of the technical student cap is a black tassel which is attached to the top of the cap and hangs on the right side of the bearer.
The technical student cap should always be worn with pride and honor. It may only be worn from May 1st (Wappu day) until the end of September, unless special permission is granted by Teekkarijaosto (Teekkari Section). International students can also earn their caps (even if they are only present during the spring semester). Just ask the Foreign Minister of Prodeko for further details! Even if you decide during the semester to not order the cap, the point card for collecting the freshman points gives you a good guideline of what to experience during your studies abroad.
Wappu
Wappu is the biggest and most important student festival of the year in Finland and celebrated on the 1st of May. On Wappu, the end of the academic year and the beginning of summer vacation is celebrated. Wappu related activities usually start two week before the first of May. The amount of events during Wappu week is abundant, including several sitsit, a sitsit competition, pub crawls, "Hullu Jussi" competition, a minute beer challenge, the "beermile" and many more. So if you are bored in the end of April, you've done something wrong. Every Wappu techical students sell traditional biennial student magazines which are full of witty, lewd and bawdy jokes and stories, but unfortunately only in finish. Julkku is the magazine published every even year, whereas Äpy is published on uneven years.
Jäynä
Jäynäs are practical jokes or pranks that bring joy and laughter both to the target and the pranker. Jäynäs are done with a good sense of humour and they should not be too offensive, although they often are on the verge. The more creative the jäynä the better: Jäynäs often incorporate the use of self made technical equipment, which are used to confuse or dazzle ordinary people. Probably the most famous jäynä is the Wasa Warship jäynä (ask a Teekkari). Each year a jäynä competition is held in Otaniemi. The competition is open all year and it culminates during Wappu week in the Jäynä Gala. The winners are revealed on April 30th, and they will represent Otaniemi in the national jäynä competition, which takes place every fall. Be sure to make your own jäynä and watch out for others' jäynäs!